By Behar Bunjaku, YES 2017-2018, Kosovo, hosted by CIEE in Palestine, TX
On March 27, 2019, YES alumni from Kosova organized the fourth edition of Kosovo Slam Poetry at the Institute of History in Prishtina, Kosovo. Nine young poets performed their spoken poetry in front of a live audience of more than 130 people.
"If I have got to be frank, at first I didn't even know what Slam Poetry was," one participant admitted. "From 'slamming the door,' I knew 'slam' meant moving against a surface with force and a loud noise…thus [I assumed] we would probably be loudly addressing our feelings for certain issues through our original poems." This participant's assumption was more correct than he knew! The main goal of  Kosovo Slam Poetry is to give a platform to young poets from Kosovo to express their thoughts in the form of spoken poetry in front of a live audience. As organizers, we believe that the first step towards solving a problem is being aware of the problem, hence the theme of our Kosovo Slam Poetry event was "Issues You See in Your Community." Through Kosovo Slam Poetry we were able to raise awareness of many issues with a diverse group of people as part of the audience.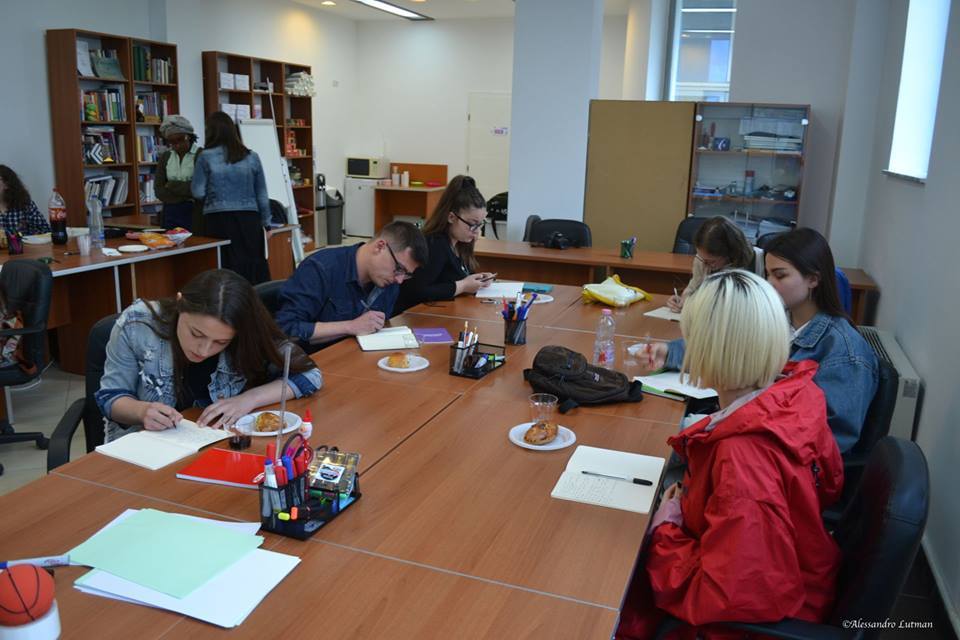 All nine poets participated in two pre-event workshops on March 20 and 26, where they had the opportunity to get to know each other and work with mentors Michaela Washington (a Peace Corps Volunteer, English teacher, and poet) and Verona Kardiu (last year's Kosovo Slam Poetry winner) on further developing their poems and practicing their stage performances. As a previous participant of Kosovo Slam Poetry, Verona shared her experience and tips to help poets overcome their apprehension. A powerful highlight from the pre-event workshops was how keen the organizers and the participants were to know each other's views on different matters. Even during meals we would discuss important historical movements and express our opinions on them.
On the day of the competition, jury members Arber Selmani (poet and journalist), Megan Fisk (Head of the English department at International Business College Mitrovica), and Adelina Tershani (Kosovo Slam Poetry second edition participant) selected 18-year-old Yllza Murtezi as the winner for her poem "Soul Sisters," which tackles the problem of prejudgment. She started her poem: "So, we are prone to judge others / Based on their gender, skin color, nationality, economic status or even their skills / All we want is to judge." She was inspired to write about this topic after being judged negatively by her peers for having a pen-pal friend from South Africa. She later explains in her poem the benefits she gained from knowing someone from another part of the world: "In the science class, I raise my hand / Since you have taught me that the first heart transplant happened in your country."
During the competition, all the poems performed were translated into sign language for members of the hearing impaired community, who were invited to attend the event.
Having witnessed their passion and hard work, we congratulate and thank all the participants for the effort and emotion they put into distinguishing our project as a valuable contribution to the community.
This year's Kosovo Slam Poetry competition was organized by: Visar Zeka (YES '15); YES '17: Anda Rama and Altin Kondirolli; and YES '18: Behar Bunjaku, Nita Bashota, Shkurte Berisha, and Riola Morina.